Seal Coating
Asphalt is easy to maintain but costly to replace!
Sealcoat is a high quality asphalt based sealer designed to give improved protection to asphalt surfaces. Sealcoat will fill minor cracks and depressions providing a smooth, attractive and long lasting finish.
It is recommended that Sealcoat be applied to new asphalt immediately after the first year of use to ensure maximum protection, and every 3-5 years thereafter. Sealcoat contains special asphalt emulsions, synthetic fibers, mineral fillers, and sand aggregates required for a smooth, durable seal. Two coats of sealcoat are applied at an average rate of 3-5 lbs./SY. A 24-hour period is recommended for proper curing.
Steelcoat™ Commercial Grade Sealcoat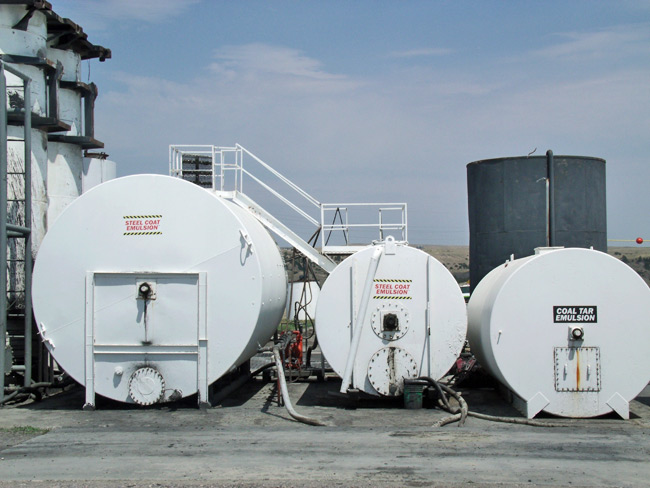 Specially designed to extend the life of parking lots, driveways, playgrounds, streets and airports.
Hardrives' subsidiary, JB Industrial, a retail outlet and manufacturing facility came to life as a response to the absence of a local source for sealcoat and asphalt maintenance products.
Today, JB Industrial (JBI) is both a manufacturer and distributor of a wide line of asphalt maintenance supplies, as well as a licensed dealer for several lines of asphalt maintenance equipment.
Steelcoat™ is designed to restore minor road pavement surface profile loss; and to permanently seal all asphaltic concrete surfaces against accelerated deterioration from tire abrasion, sun, wind, rain and mild chemical attack. Manufactured by JB Industrial at their Billings production facility, Steelcoat™ commercial grade sealcoat can be described as an asphalt coating that is:
Water dispersed
Polymer modified
Slate and mineral filled
Black cementious asphalt coating
Examples of Our Work